As young New Zealanders face challenges of winter, some won't find a stable or healthy home in the current housing crisis without your support.
We urgently need your donation to help to protect those vulnerable young people facing life in motels who can't access social housing right away. Some may be forced back on the streets or back into unsafe situations.
Please, will you donate today?
We are facing the largest gap ever between those who have a home and those who can't afford to get into a home. Recent estimates suggest that half of all New Zealanders experiencing homelessness are under 25*.
Now there's more pressure on housing than ever. Even one piece of bad luck, a sick child, a breakup, a missed day of work or an unpaid bill can send a young family and kids into temporary homelessness – or worse.
With new young people becoming homeless every week in Auckland, our programs – and our budgets – are being pushed to the limit once again. We are convinced that motels are not the answer!
Unless you can help us support young people to avoid emergency motel accommodation, then they may have nowhere else to go. Some will receive 7 days' notice to move out of motels potentially into somewhere worse.
Far from ideal! And the worst thing is that they are often placed with more mature people who are facing challenges of their own, putting these young people at risk.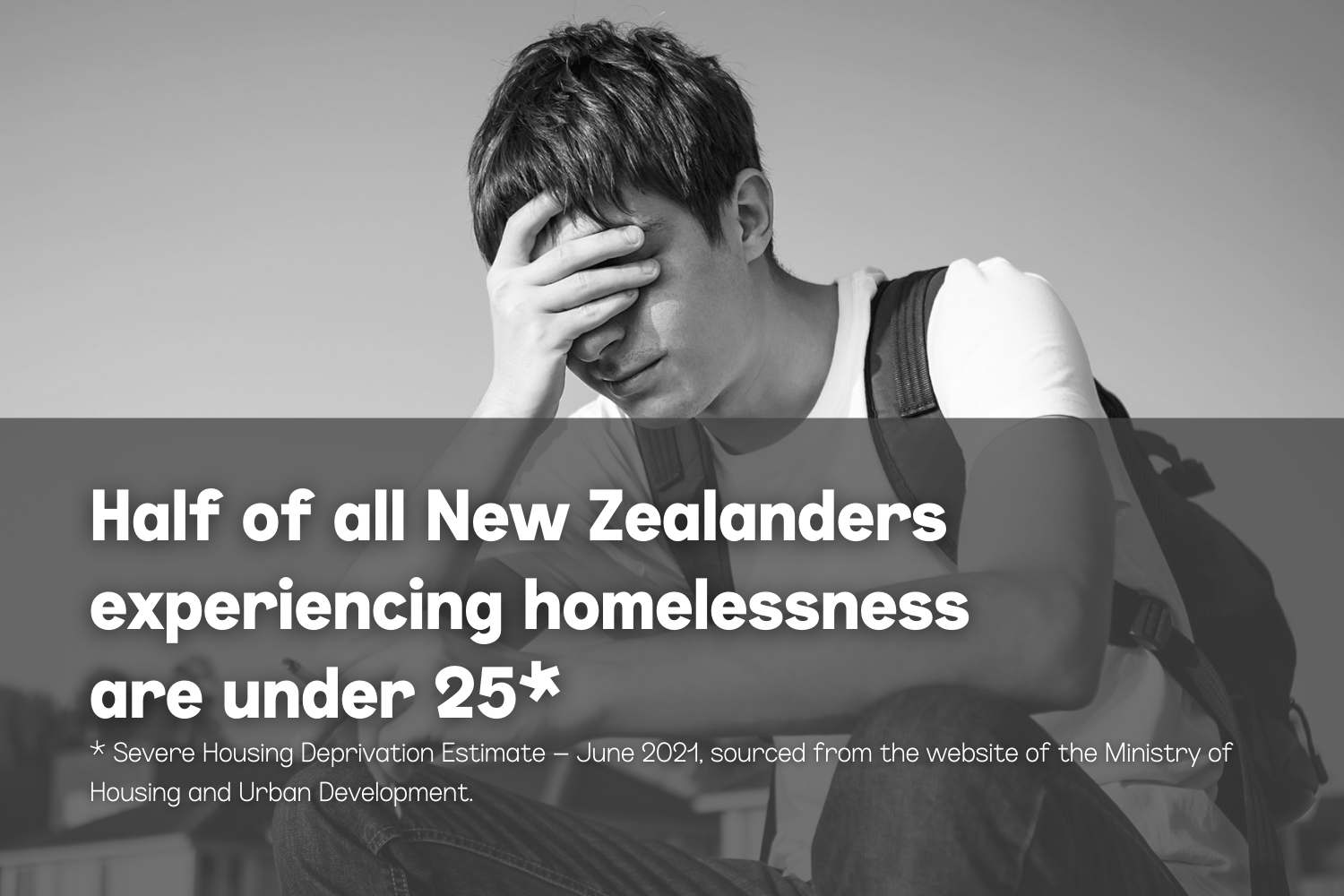 For a young 20-year-old parent like Hiko**, with daughter Chloé who just turned two, a motel as a temporary place to sleep could spell disaster. (** Some details about this whanau are so sensitive we had to change them to protect their identities.)
Please will you send a gift today to protect young people from the streets or unsafe living environments?
The recent spike in youth homelessness is not always visible but the demand is growing.
The reason for the surge is simple.
Whenever house prices go up in New Zealand, homelessness does too. And with property prices hitting record highs, families are under more financial pressure and streams of young people are turning to us for support each week.
We often hear the stories of young people living with uncertainty in motels and vulnerably on couches. But this increase in demand for our youth housing services has me concerned.
Hiko came to our doors, and he appeared to be a responsible but conflicted young father who wanted to take on the custody of Chloé. He came to Lifewise having lost his job, without a way forward and without a suitable home for him and his young daughter.
He sought intensive help during the separation from his partner. We see he really desires a safe place for Chloé to thrive. Your support means a whānau can be supported during this crisis.
A temporary motel stay is simply not the right place for young dads like Hiko and his daughter in need of wrap around support, right?
Through your support of rangatahi, you make it possible for the right information to reach Chloé's parents on care options for their child and support for them as they go through a separation.
One of our case workers currently supported by gifted funding is Gus. "We can refer young men and women such as this couple to our family services so the family unit doesn't splinter apart unnecessarily," says Gus.
Your donation means that we can refer children to attend a Trauma Informed Early Childhood centre like the ones we have across Auckland.
We can also help young people connect back to their whānau and extended family members. But this takes time and there are often burned bridges that need repairing.
Gus says, "We can provide support to Hiko to not only access youth housing but also parent-focused health services, child and parent playgroups and help the couple navigate through parental decision making."
Gus, one of our case workers often finds himself in situations where he is facilitating urgent support to get people into warm safe homes. We currently provide homes for approximately 9 young pregnant or recent mums needing intensive support. We don't know how many more young parents like Hiko will be looking a place with us this week. It's often not just the people who are directly supported by us, but in Hiko's and Chloé's case, it extends to Chloé's mum and other whānau who aren't living with Chloé.
Hiko's family also makes me worry about how many more young Aucklanders are newly homeless, and might soon come to us in need of housing for the first time. Those young people are likely be afraid, lonely and feeling overwhelmed by life on the streets. Some may be in a very fragile place in their lives and we will struggle to find a home for them given our limited funding.
Gus says, "I personally feel blessed to have had the support I needed, when I needed it. But there are many among us who have never had that."
To give young families the support they need, young parents need to be equipped with the knowledge and support needed to access and sustain appropriate housing. For many, Auckland is a city too expensive to live in.
Will you please help by making a donation so we can bridge the gap today?
Hiko is someone who knows just how tough it can be to be without a home for his daughter. But with homelessness rates rising in Auckland, and without your support, people like him could be facing this alone.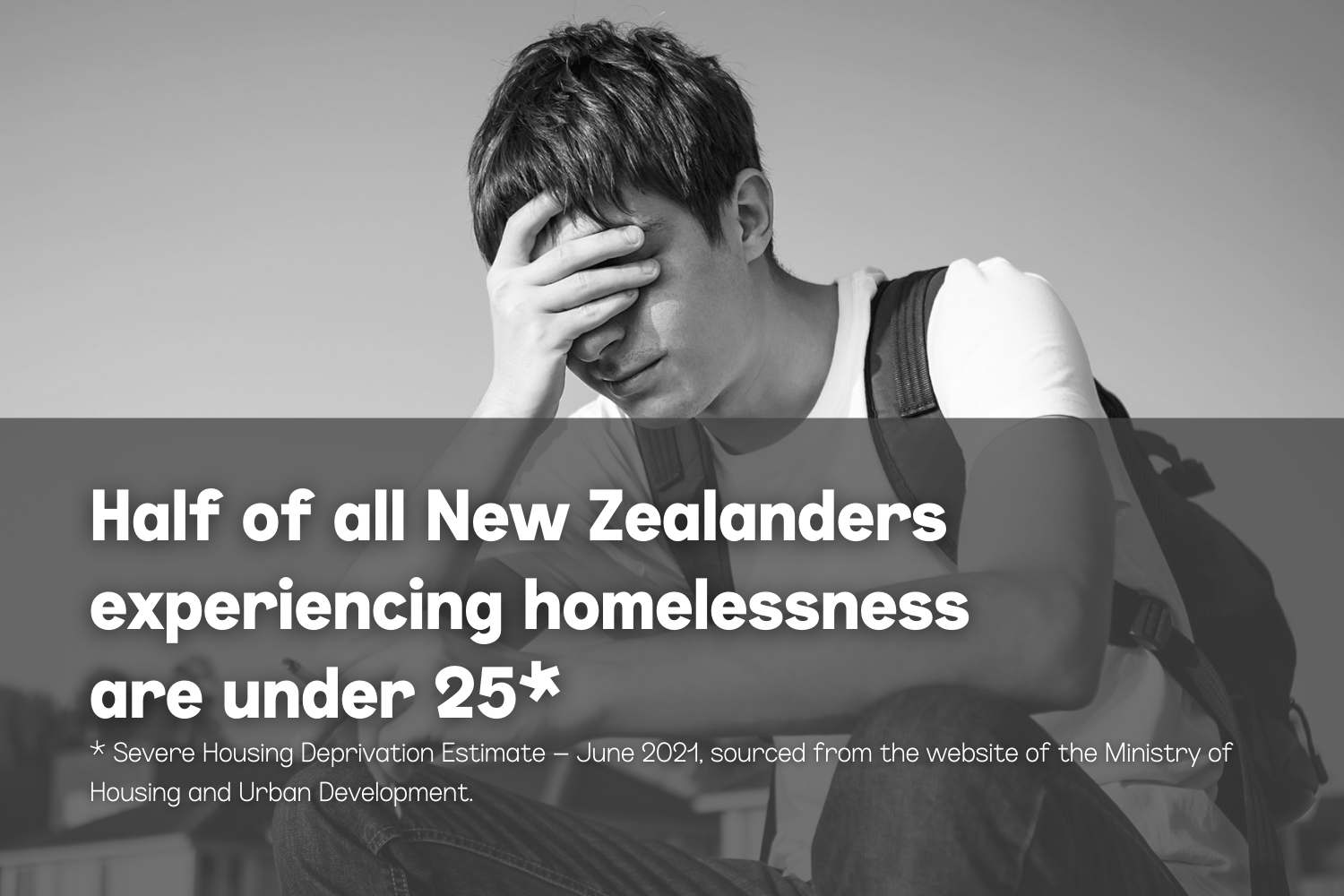 When young people are feeling afraid and alone, they need to know they can reach out for housing and support until they can get on their feet. If they can't get into the limited amount of youth housing units in Auckland, where will they go?
With the future of young Kiwi families hanging in the balance, your support is needed now more than ever. 
Will you please make a donation today? It's a powerful way to change a young person's life and stop a young person and their family living in fear of permanent homelessness.
Youth homelessness is on the rise, our youth housing units are already full, and there is an unprecedented demand for more. Your gift can give hours of care and support for people who find themselves unable to find a home. Please make your life-changing donation today.