Merge Café is unlike any other. Every dollar you spend at Merge Café goes towards support for people experiencing homelessness. By sharing a meal and a conversation, you can help change the world. At Merge café, our goal is to merge.
Merge Cafe is located at 453 Karangahape Road. Open for service, weekdays 7am-2pm. 
We serve plates of goodness and cups of kindness
Since 2010, Merge Café has welcomed and supported people from all walks of life. Our great food, excellent coffee, friendly service and cool atmosphere has made us an award-winning destination.
Whether you're hungry or you hunger to make a difference, we welcome you to our shared tables to chat over delicious food and enjoy good company.
Merge Café has played a crucial role in supporting Auckland's street whānau and those experiencing homelessness. We break down societal barriers and offer a warm, safe and supportive space where anyone is welcome.
Kia ora – nau mai haere mai. We'd love to meet you!
We're open weekdays 7.00am–2.00pm.
You can find us at 453 Karangahape Road, Auckland Central
Eat well and pay it forward
We charge as little as possible. If you can afford to pay more, please pay it forward. By adding a few dollars, you can help your neighbours enjoy a hot, delicious meal or a cup of coffee.
We provide $5-$7 subsidised meals to the community to ensure people who are homeless or living on the margins can eat well every day. The hearty lunches we serve cost $12 per meal for us to produce.
If you're fortunate enough to have a roof over your head and food in the fridge, we encourage you to pay it forward. This helps us provide free meals to those in need and keeps the café delivering on its mission.
Pay it forward when paying for your kai, or buy a 5-meal card for people in need.
Can't make it in-person? No problem! You can donate to Merge Café online instead.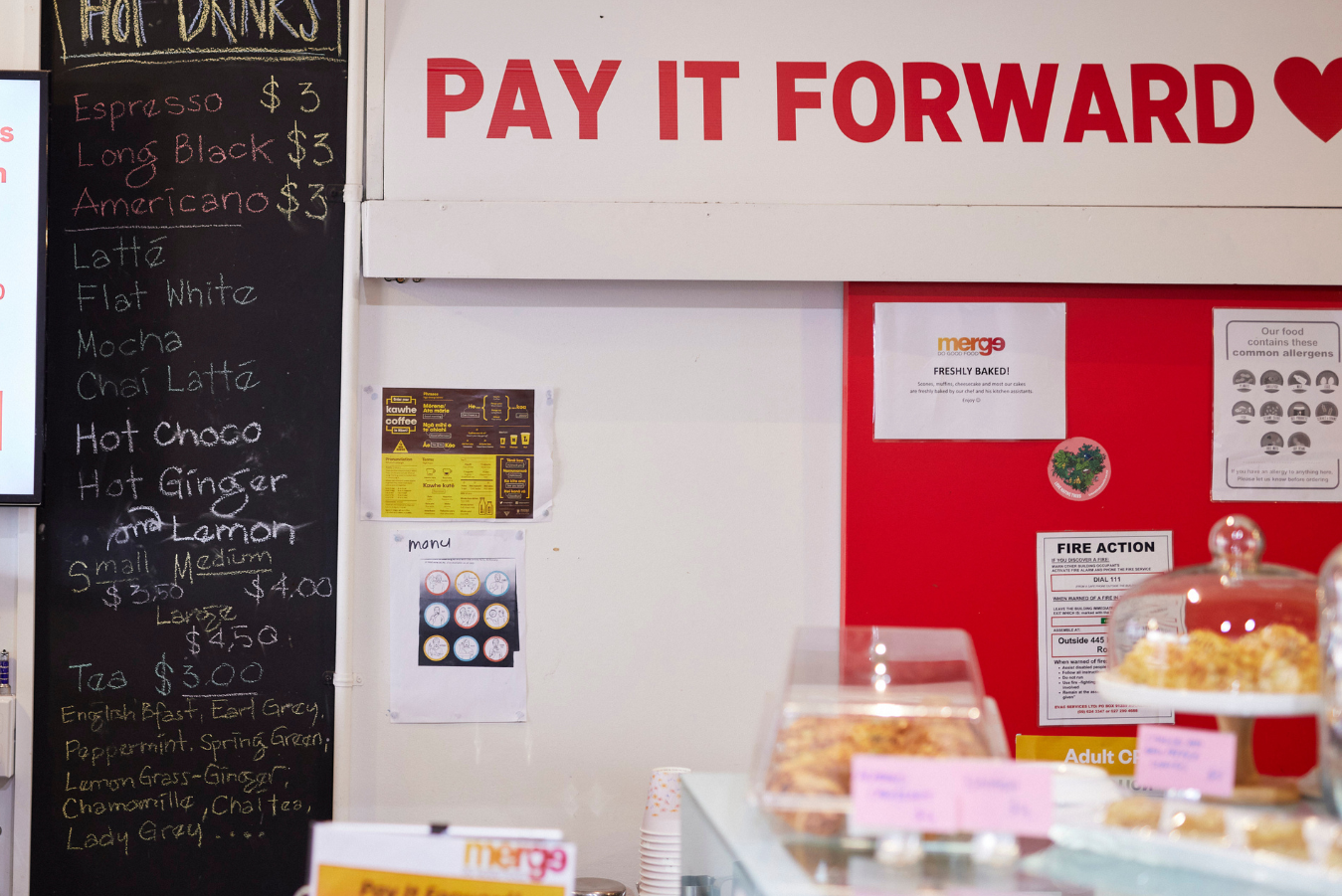 Have a feel-good event that does good
Merge is a place where you can eat well, feel good and do good, all at the same time. If you'd like to know about holding an event at Merge Café, then let's talk. Please email Manu – manuk@lifewise.org.nz.
Merge Café has everything you need to relax and unwind.
You can jump online with free Wi-Fi and iPad access – just ask our café manager for the details.
Connect with the community through the Merge Café noticeboard. Find and post job vacancies, event updates, and information about places to stay.
Enjoy our alfresco area where we host BBQs and muso events. Even on rainy days, Merge Café can be your place in the sun.
If you like some quiet time, join the Merge Café Book Club or feel free to linger over our collection of books and magazines.
Merge is a doorway to a whole community
The Merge Community team provides guidance and advocacy to people in the homeless community. Operating from the Merge Café and upstairs, Merge is a doorway to support and opportunities.
Read more about Merge Community here.
It all started with a soup kitchen
Before Merge Café became the modern establishment you see today, it was the Airedale Community Centre.
This bustling and well-known soup kitchen served over 40,000 meals a year to Auckland's homeless people from 1885.
Over the years, we realised that despite the best intentions, the soup kitchen was maintaining rather than solving the issue of homelessness. A growing body of evidence prompted Lifewise to re-evaluate its approach.
In November 2010, we made the brave decision to close the soup kitchen and open a café in its place.
Our goal is to end homelessness
Merge Café is a space where anyone and everyone is welcome, regardless of their background or social and economic status. The goal is to merge. Merge Café aims to provide anyone with the opportunity to enjoy meals together, in an environment that embraces choice, dignity and respect.
Merge Café supports Lifewise's approach to tackling homelessness. It connects patrons with wrap-around services that provide pathways out of homelessness. The café has proven to be successful on both fronts.
As only one of a small handful of such cafés worldwide and the only one of its kind in New Zealand, Merge Café is certainly unique.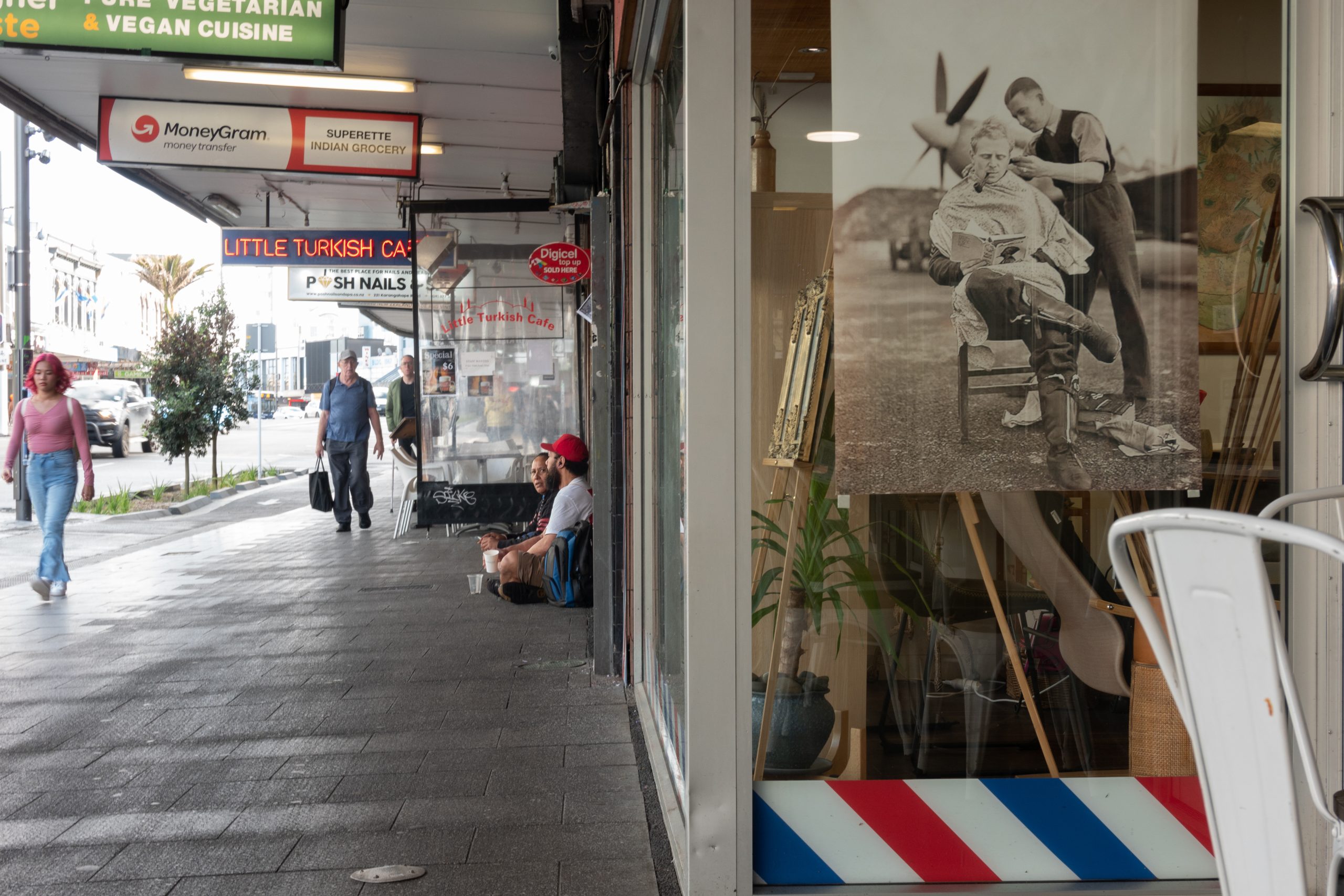 We're grateful to Merge Café's supporters
Sir John Logan Campbell Residuary Estate
Remuera Christian
Trust Board
Your support is the icing on the cake
You can recommend us on Trip Advisor and find information about fundraising or donating to
Merge Café through Lifewise here.
Stay connected with what's happening at Lifewise.