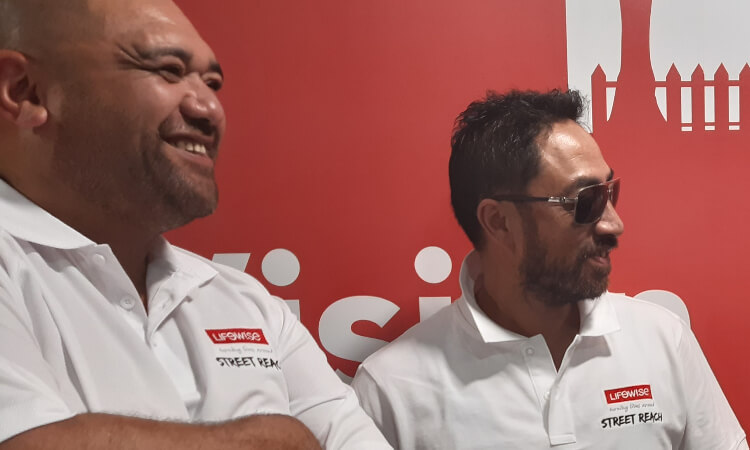 Finding solutions to homelessness in the bump and sway of New Zealand's daily routine has been a tough journey for the Lifewise team, and we've done everything we can to foster public awareness around this issue. But then, something happened.
The whole country went into lockdown, banding together as a team of five million to fight the oncoming tide of COVID-19. We saw what had happened to other countries and we learnt from it, creating strategies, sticking to them, and caring for those around us by staying inside.
But what has become of those people who don't have a home? 
When Budget 2020 was announced, Lifewise welcomed the 8000 new public houses but cautioned against a "reliance on transitional and emergency housing".
"We would like to see robust programmes in place to move people into sustainable, long-term housing. If these programmes aren't in place, people can become stuck in a cycle of substandard housing, or end up on the streets again," said Lifewise CE, Jo Denvir.
Furthermore, we were disappointed that the Government did not increase support for people living on benefits, particularly those who are from vulnerable communities, and those already living in hardship.
"By not addressing the issues that beneficiaries face, the Government is overlooking the increasing social inequities and injustices that persist in our communities," said Lifewise CE, Jo Denvir.
Speeding Up the Housing Process 
With doors closing and streets emptying, the threat of COVID-19 presented a huge risk to the most vulnerable citizens in our community—those without homes. And they needed help fast. Having a safe environment is so important for a variety of reasons, including mental health stability, overall health, and addiction support, which is part of what made it crucial to stop the spread of the virus.
"The government agency approach has been to pick up people before they fall through the gaps."
The Ministry for Housing and Urban Development responded quickly to the presence of the virus, releasing a stimulus package of 100 million dollars after having already housed over 1,000 rough sleepers in New Zealand.
We worked hard alongside them to co-ordinate our usual support programs and make them work remotely for our housing facilities in Rotorua and Auckland, housing those who couldn't stay in the facility in nearby motels. We were providing support for 70 people during lockdown—70 people who had previously been sleeping rough. Some hadn't had a roof over their heads for the 15 years they'd been on the streets.
Now is the Time to End Rough Sleeping 
Aotearoa is at a point of critical change, one where everyone is considered equally important to our society. The Auckland and Wellington streets were virtually empty of people who needed help with housing, and the government has made big moves in caring for those who didn't have anywhere to go during the lockdown.
With the country rising out of an economic downturn and priorities changing as they have been, now is the time to end rough sleeping for good. The lockdown measures demonstrated that we collectively have it in us to look after the most vulnerable in our society, moving them into safe housing quickly where previously it could have taken months.
As Wellington City Commissioner Murray Edridge said, "Our responsibility now as service providers, as decision-makers, as funders, is do we have the courage to create a new future?"
Can we use what we learnt as a country in the lockdown to bring the homeless population in from the cold and make their wellbeing just as important as any other New Zealand citizen?
Why Housing is Important for Rough Sleepers 
One of our peer outreach workers, Raymond, was working alongside other members of the Lifewise team to help the rough sleepers being housed around the country. Having lived on the streets for ten years himself, Raymond noticed something huge when working with his team.
"They are liking having a warm shower, a soft bed, and a bit of security."
Conditions like this—where you have somewhere to call home, a regular place to sleep, and access to a warm shower—can make all the difference. This is the basis of everything Lifewise does. When people have this kind of security, it encourages a good mental state, helping them to reach out to whanau and look to the future. In other words, it gives them a chance to collect themselves, make some goals, and start moving forward again. 
If we, as a country, can start to prioritise the wellbeing of the homeless population as we do every other New Zealand citizen, we will see some major changes. Optimisations to the housing programs around the country will put more roofs over heads, giving people the chance to start anew.
Let's use the lessons we have learnt in lockdown to bring our country above where it was before. Let's band together again, a team of five million, to protect those who are most vulnerable in our society.
Let's house the homeless.
Join Lifewise in our mission to house the homeless today 
If this message resonates with you, spread it around. Everything helps with acquiring better housing assistance for Aotearoa. We have opportunities for donations and volunteering, or you can support us by buying a coffee at the local Merge café!