MENTAL HEALTH AND ADDICTION SERVICES
Lifewise in Rotorua offers Mental Health and Addiction Supported Accommodation Services. Our recovery-focused live-in programme for adults is called Te Ara Ora, the Pathway to Wellness. This Pathway also includes Community Support Services to support residents to connect with whanau/families and their community.
Lifewise provides 24/7 support in a residential setting to support people who experience mental health and addiction issues.
Following the principles of Housing First we also provide Short-Term Emergency Housing services. By providing access to a home-like environment residents are able to engage with their support team, whanau/family and plan a healthy productive future.
Located in Rotorua, Lifewise Mental Health & Addiction Services provides supported accommodation to people who experience Mental Health and/or Addiction issues from the Lakes and Tairawhiti regions. Access to Lifewise may be direct or through LinkPeople.
Therapeutic Programmes
To make our residents' time with us enjoyable and rewarding, we have implemented a number of programmes including Hinengaro, Tinana, Whānau, and Wairua. Click here to know more.
Lifewise Rotorua Residents – Pounamu Taonga
Māori view taonga (treasures) as their ancestors, therefore how they are presented and treated is very important. Taonga have been a common sight over centuries and whanau/hapu and Iwi have passed down pieces through generations to ensure that the mana (pride) and mauri (life) is preserved.
There are many forms of taonga and they often depict kaitiaki (guardians) and symbolic places to enhance connection, purpose and belongingness.
The residents of Lifewise Rotorua were gifted a piece of pounamu (greenstone) each to design their own taonga (treasure). This unique opportunity has encouraged residents to dig deep, research their ancestry and detail a piece that is meaningful and special. Our residents are not all of Maori descent, but they all have their own beautiful cultural history and this piece resonates with their wairua (spirit) and recovery journey.
Jim Wicklife (Programme Support Worker) works closely with them all to encourage creativity, hope and purpose. Residents are invited to present their pieces to staff, whanau/family and support people at a special presentation in 6 weeks. They will share this special spiritual journey that will not only enlighten others, but inspire also.
Kia Ora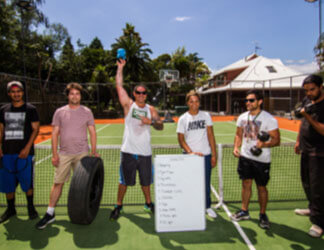 ALCOHOL AND OTHER SUBSTANCE SUPPORT SERVICES
Lifewise follows a back-to-basics approach with a focus on whanau and family values.
Residents are supported to attend counselling sessions, support groups and with a recovery-focused approach. Lifewise Support Workers work closely with LinkPeople, Te Utuhina Manaakitanga Trust Alcohol and other Substance services, Taupo Alcohol and other drug services and Te Ngako Mental Health Services. Lifewise supports people to embrace life, and make positive choices that encourage autonomy. Our central location, ample greenery on site and connection to the local community helps people turn their lives around.
Emergency Housing
Lifewise Rotorua's Short-term Emergency Housing service is closely linked with our local Alcohol and other Substance Support service.
We are also part of the Rotorua Housing Action Plan.
MENTAL HEALTH SERVICES
Lifewise Rotorua works with LinkPeople to provide support to people who experience mental health issues. Residents are supported to attend counselling sessions, support groups and with a recovery-focused approach.
This service is closely linked to our local Mental Health and Addictions service. Following the stabilisation process, the person becomes part of the Lifewise Community Support Service. Lifewise Support Workers continue to support people to overcome challenges and achieve independence.
Community Support Services
After completing residential treatment, Lifewise Support Workers go one step further.
We can support people with Work and Income procedures, looking for a home and finding a job.
EXTERNAL SUPPORT
Lifewise respects that you or your family/whanau may prefer to seek guidance from someone else.
Please feel free to contact the Rotorua Health and Disability Advocate on 0800 11 22 33 or 07 349 0182.
Whiria te kaha tua makatia e motu honoa purutia Rotorua.
Draw together the strength, interweave it, if it should break, join it together. Holdfast to Rotorua.