For one night on 20 October, Kuirau Park was home to community leaders and whanau at the Lifewise Big Community Sleepout Rotorua.
This Sleepout by Lifewise in Rotorua was different and bigger than last year's event.
In August, people from across Rotorua were encouraged to come forward to participate. As a result, almost 100 participants signed up, including Kuia and Kaumātua. Some of the influential participants included Lakes DHB's General Manager, Planning and Funding (Mary Smith), the GM of Māori Health, Lakes DHB, and Kuia/Kaumatua, Ngati Whakaue, Norma Sturley.
They all wanted to raise awareness about homelessness by sleeping rough for one night. By doing this, they also raised money in support of their commitment to look after our most vulnerable whanau. Therefore, this event was bigger than ever before with almost 100 "rough sleepers" making Kuirau Park their home for one night.
Warning
: Attempt to read property "post_title" on null in
/home/lifewise/public_html/wp-content/plugins/js_composer_salient/include/helpers/helpers.php
on line
60
Pitching tarps and welcoming participants
Heroes were rewarded
This event was a chance for some of the most hardworking Rotorua groups and agencies to raise awareness about homelessness. Not only did they sleep out in the cold rain on wet grass, they also fundraised over $20K. Now, as a result, they can continue to do all they can to help some of the most vulnerable Kiwis in Rotorua.
Last year, at the first ever Lifewise Rotorua Big Sleepout, leaders from the community, iwi representatives, and political parties helped to raise $36,000.
Over the last year, a portion of these funds were awarded as one-off grants to Rotorua groups and communities that have shown remarkable dedication and commitment to the four strands of the Rotorua Homeless Action Plan 2015-2016 — Prevention, Intervention, Integrated Support Work, and Independence.
Each of the following groups received $5,000 —
Love Soup Rotorua
Waiariki Women's Refuge
Rotorua CFM, St Lukes
Rotorua Salvation Army
Rotorua Shake Up Youth Service
On the cold wet night of 20 October, each of these groups delivered inspiring speeches to everyone present. The grants they received helped them to continue doing the amazing work they do.
Participants getting their "beds" ready for the night
Emotions were high
As the sun set on that cold wet Thursday, participants were treated to a beautiful haka pōwhiri by National Secondary Schools Supreme Winners, Raukura Kapa Haka Group. Click here to watch the video on the Lifewise Facebook page.
One by one, each of the groups that received a grant addressed the audience. Shake Up described how they connect with youth in Rotorua and help them find jobs. Love Soup showed how they use food to bring people together and connect them with the services they need. Waiariki Women's Refuge presented a powerful example of how their strong, unwavering support can change women's lives. St John's described how they provide affordable groceries to families in need, and Salvation Army shared how their support gives vulnerable Kiwis much needed strength.
The morning after, and breakfast is ready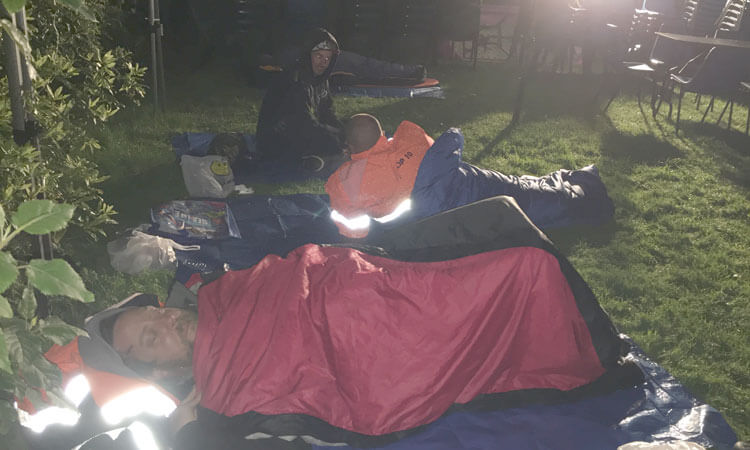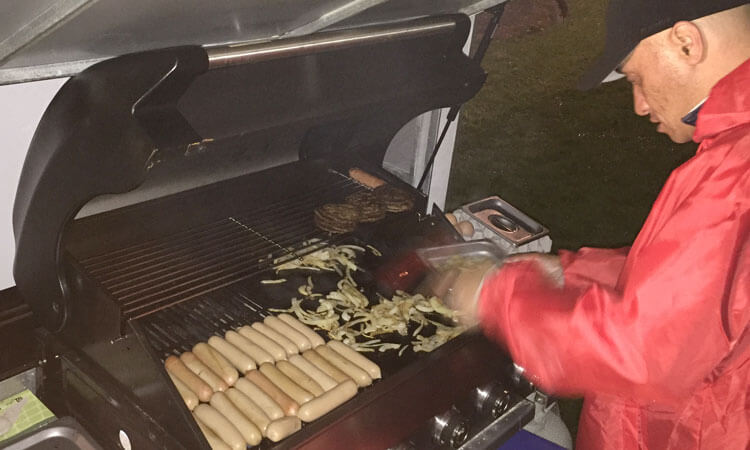 Fundraising was a success
The Lifewise Big Community Sleepout is a fundraising event. Although this year we faced a number of challenges, we still raised a generous $20K. It's a great result because this means we can continue to collaborate and help Rotorua's most vulnerable people to turn their lives around.
Participants fundraising pages are open until 4pm today, 27 October. If you haven't done so already, please visit rotorua.bigsleepout.org.nz to show your support.
THANK YOU to all participants and their sponsors. We could not have done this without your support.