Education experts agree that the first five years of a child's life are the most crucial. That is why Lifewise's Early Childhood Education centres are called Vital 5.
At the Vital 5 centres in Waimumu, Glen Eden, and Royal Road, our experienced teachers create an educational, nurturing and caring environment.
What does Vital 5 do differently?
At Vital 5, young learners pick up a life-long love for nature. "We encourage them to find innovative ways to protect and care for our environment," says Iuliana Rodincuic, one of the Vital 5 teachers. "This eco-conscious approach is visible in the way we present the children's learning and achievements in our childcare environment."
Inspired by The Lifewise Way, and the principle of "innovating to create better options," Vital 5 teachers embraced what they already had in their natural playground. "In an ecological and sustainable way, we used twigs, leaves, tree bark, shells, tree seeds, pine cones, stones, and pebbles for inspiration and as resources to design our learning environment," says Iuliana. "These photos will speak more to the hearts of nature lovers than a thousand words ever could."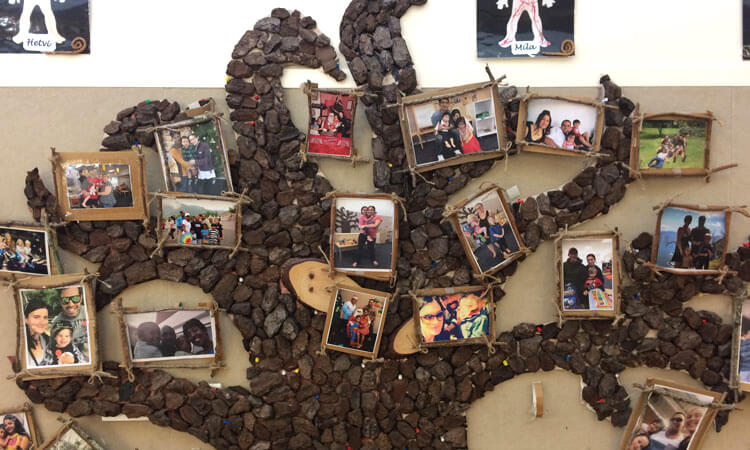 The photos show the work of our Nepali teacher Bimala Pokhrel and our Tongan teacher, Nehusita Lolohea. "You will see in their designs, their commitment to be kaitiakitanga," says Iuliana. "Guardians and protectors of our environment, honouring the Treaty of Waitangi and upholding its values and principles in everything they do for our young learners and their families."
Vital 5 also supports the growth and development of their teachers. Since June 2015, the team celebrated four teachers receiving their full registration after a 2-year mentorship programme offered by Vital 5. "We have seen these wonderful teachers grow and develop into highly dedicated professionals who embrace and celebrate the Lifewise way in everything they do," says Iuliana.