Rangatira mō āpōpō? Rangatira i tēnei rā!
(Leaders of tomorrow? Leaders for today!)
Hosted by Ara Taiohi, Youth Week is an annual event in New Zealand that celebrates and recognises the achievements, talents, and contributions of young people aged between 12 and 24. It aims to empower young people, encourage their participation in society, and raise awareness about the issues they face.
As a part of Youth Week 2023, Lifewise's Youth Housing Team and young people took this year's theme to new heights.
The theme
Rangatira mō āpōpō? Rangatira i tēnei rā! (Leaders of tomorrow? Leaders for today!).
The challenge
Taking on Tāmaki Makaurau / Auckland's mighty Adrenalin Forest.
There's a stereotype many of the rangatahi in our service find themselves labeled with, and they're simply not true.
The media refers to them as 'troubled' or 'disengaged', the government marks them as 'at risk', but in our experience, these so-called 'statistics' are loving, caring, compassionate individuals who need time, support and the right kind of challenges to really challenge them.
Sure, they lose their temper from time to time but name a teenager that doesn't.
That's why, when our Youth Services Team saw the theme for Youth Week 2023, they thought: Let's challenge those statements. Let's show our rangatahi that they are leaders for today.
Our Youth Housing Team knew the challenge, they understood the mission. They empowered these rangatahi to be the leaders they are.
As Sarah, a Youth Housing Team Lead learned, quite the opposite happened.
"It's been a very scary and challenging day for me. But I've seen the young people really push themselves, they've been a lot braver than me. I've seen them climb up, recognise that it was a bit too high for them, and climb down. They know when to ask for help."
"I saw them celebrating each other, helping each other, and encouraging me – the biggest scaredy-cat."
As the team moved through the course, bystanders stood in awe as these young people moved swiftly through the trees like a pack of unified Flying Foxes. A sight to see as they encouraged each other at every step.
There were lots of 'wooos' and 'you got this' comments echoing among the trees.
There was the occasional, but very genuine 'sorry miss' as they got told off for breaking the cardinal rule of: No more than two people on each platform.
Who can blame them though? Pushing boundaries is what young people do. Knowing when they've overstepped and acknowledging it, is where true leadership is born.
These rangatahi are good people, often born of tough situations – and what do we know about tough situations? They don't last, tough people do.
Six levels later, we can tell you. These young people are tough.
It would be a lie to say that they all completed the course. Because they didn't. They ALL completed the course that they felt pushed THEM enough.
There's something powerful in this, and that's knowing your boundaries.
Walking away, the team came together to reflect and say one word to describe the day….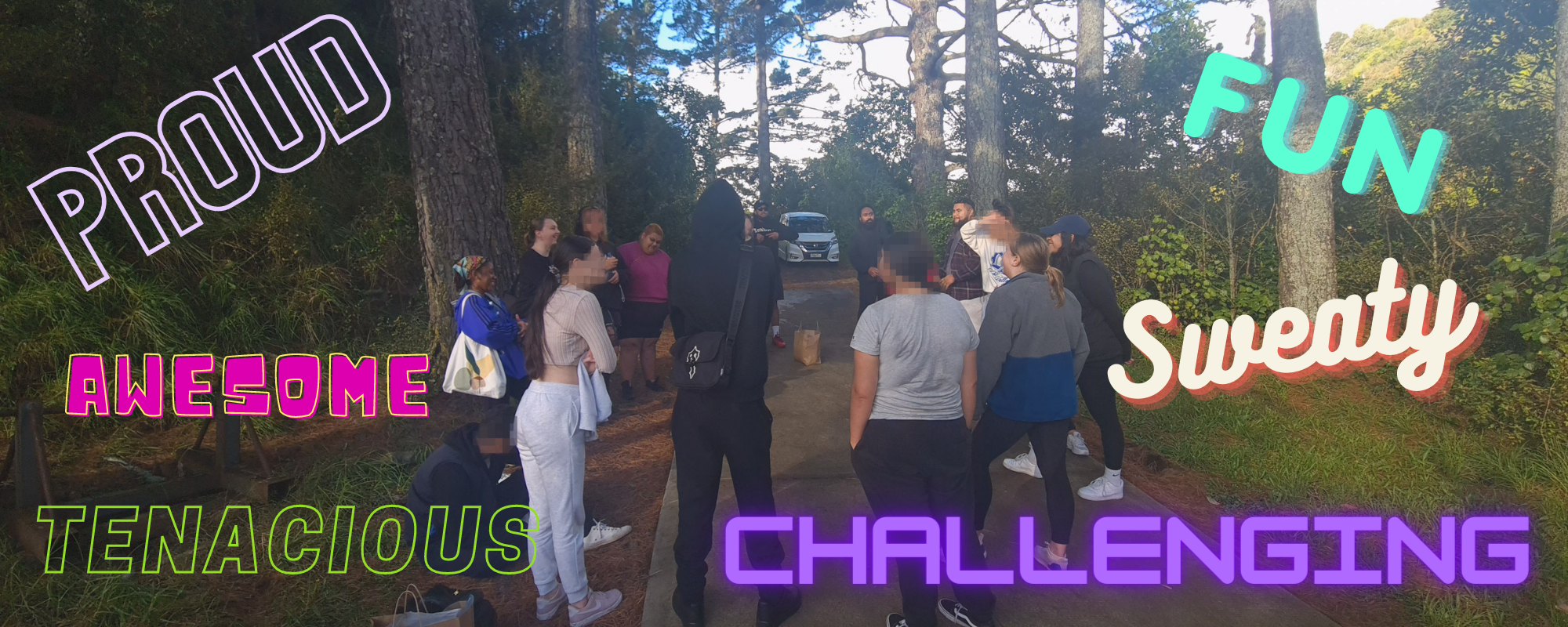 If that doesn't make you think 'Rangatira mō āpōpō? Rangatira i tēnei rā!', we don't know what will.
A very special THANK YOU to OneGoodKiwi for making this incredible day possible.