Merge Cafe's Spring Pop-Up Dinner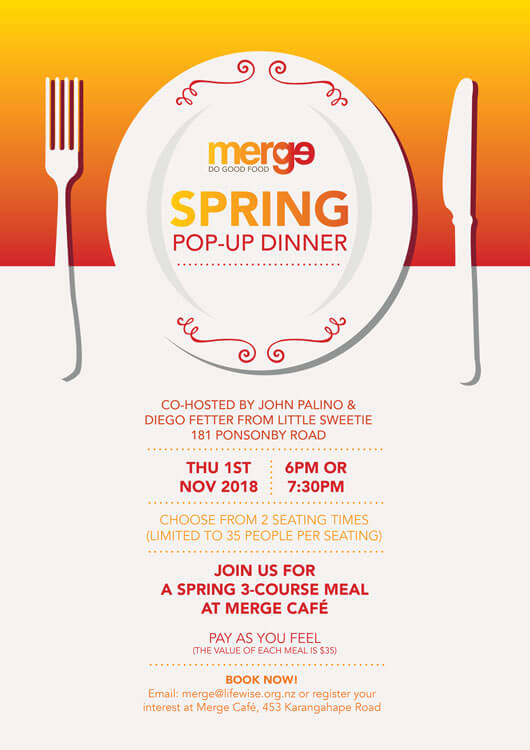 Lifewise Merge Café is hosting a Pop-Up Dinner on Thursday, November 1st to celebrate the spring season. The event is co-hosted by John Palino and Diego Fetter from Little Sweetie. Enjoy music and great food prepared by Merge Cafe chef, Umender, and Little Sweetie Chef, Diego Fetter.
A 3-course set menu will be served during this special event:
Entrées
Soft Parmesan polenta with egg and caponata OR
Chicken tortellini with blue cheese sauce & fresh herbs
Main Course
Grilled fresh trevally fish with lemon butter sauce, veggie medley and quinoa salad OR 
Harissa chicken breast, potato au gratin, roast veggies and slow roast thyme tomatoes OR
Pumpkin lasagne with roasted seeds and garden salad
Dessert
Fruit crumble with warm crème anglaise sauce and ice cream
The value of each meal is approximately $35, however, you can pay as you feel to help raise funds for the cafe and support the community.
Event information
Event: Merge Cafe Spring Pop-Up Dinner
Date: Thursday 1st November 2018
Times: 6:00 pm & 7:30 pm – Two seatings of 35 people each
We invite you and your friends to come and celebrate this special event with Merge Cafe. Each seating is limited to 35 people only! To book your seats, please email merge@lifewise.org.nz or come to Merge Cafe. We're at 453 K' Road, open weekdays from 7:00 a.m. to 2:00 p.m.
About Merge Cafe 
Founded in 2010, Lifewise Merge Cafe has welcomed and supported people from all walks of life, bringing them together to share great meals and engage in conversation. Our mission is to support Auckland's homeless whānau, breaking down societal barriers, all while offering a warm, safe, and supportive place where anyone is welcome.
Learn more about Lifewise Merge Cafe, its mission, and events.