On the night of 17th of September 2018, it was estimated* 800 people were sleeping rough on Auckland's streets. A few years ago, Hono used to be among those people.
Hono has been working alongside Lifewise for two years now. He first came into Merge Café early in 2017, after sleeping rough for several years. "I was one of the people who didn't realise the different types of support on offer at Merge Café. People think it is just somewhere to go along and get a feed, get a coffee." 
Hono found that he is able to get much more than just a meal at Merge Café and feels a kindred connection with the Merge Community peer support volunteers. The team is made up of people who have experienced homelessness. Their personal experience of rough sleeping and unstable accommodation helps them connect with each other and other homeless people in a meaningful way. Their journey towards a better life helps build trust and self-confidence. With their support, people like Hono realise that their situation isn't hopeless.
The Merge Community team supported Hono into the incredible Housing First initiative. Housing First fast-tracks people living on the street straight into a permanent home. "When I first started out with Merge and Lifewise, I didn't want to hear what people were saying. I didn't think it would work! But then when they were right, I started listening and was more humble."
"I would have died on the streets like so many of my friends, if it wasn't for Lifewise, Merge Café and its community. They give me energy, put the plug back in and make me feel like I can succeed again."
– Hono, 64, formerly a rough sleeper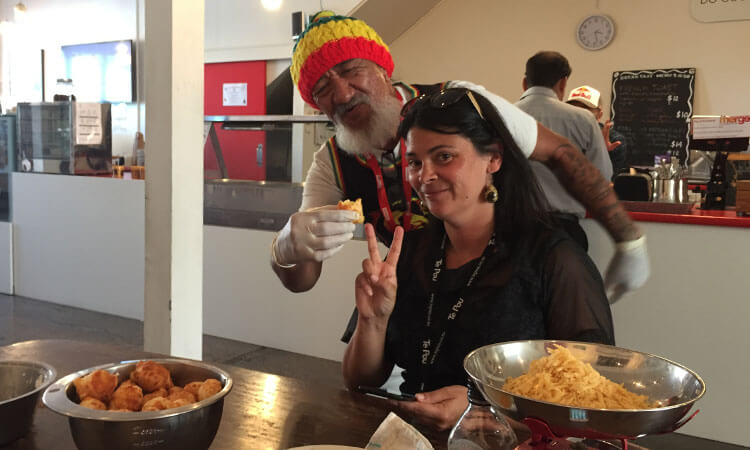 Whilst still homeless and living in emergency housing, Hono wanted to give back to his street whānau and joined the Merge Community team. As a volunteer, he started to help out, talking and referring others on to Housing First. Hono derived real determination, drive, passion and confidence from this work. "My mates at Lifewise told me – you can, there's no such thing as can't, take the T away, you can and they made me feel good. That 't' takes away from you, and distracts you from the real you."
Hono was rehoused through Housing First in May 2018 and is now living in permanent accommodation. "If it wasn't for Housing First I would probably still be stuck in those rutty little places, I probably wouldn't be here at all, I had to get away from my old habits to learn these new ones, I want to work for my money and get a good job. I want to continue to be involved in Merge and use my experience here in the place that started me off, I'm very grateful to the Lifewise staff."
Hono's passion for hospitality saw him secure a temporary vocational role at Kitchen Challenge as assistant to the manager Rob Rees. "It has inspired me to go on and do more, like the catering I help with now. I just help organise everything and help by putting my little bit of advice in, like on how to chop and garnish things."
DONATE NOW
Support Lifewise